OMDC holds auctions for used machines and tools on a regular basis.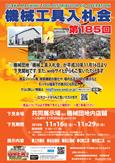 The 185th auction
Preview period:From Friday, November 16, 2018 to Thursday, November 29
Ballot open: Friday, November 30, 2018
Collection period: From Monday, December 3, 2018 to Friday, December 7
This auction has been closed.
Please join the next auction.
Annual auction schedule for fiscal 2018
Number of times
Period
Explanatory notes
The 183th auction

Preview period:

From Friday, May 18 to Thursday, May 31
Auction closed

Ballot open:

Friday, June 1

Collection period:

From Monday, June 4 to Friday, June 8
The 184th auction

Preview period:

From Friday, August 17 to Thursday, August 30
Auction closed

Ballot open:

Friday, August 31

Collection period:

From Monday, September 3 to Friday, September 7
The 185th auction

Preview period:

From Friday, November 16 to Thursday, November 29
Auction closed

Ballot open:

Friday, November 31

Collection period:

From Monday, December 3 to Friday, December 7
The 186th auction

Preview period:

From Friday, February 15, 2019 to Thursday, February 28
Holding schedule

Ballot open:

Friday, March 1, 2019

Collection period:

From Monday, March 4, 2019 to Friday, March 8