OMDC holds auctions for used machines and tools on a regular basis.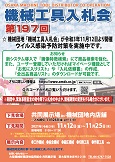 The 197th auction
Preview period:From Friday, November 12, 2021 to Thursday, November 25
Ballot open: Friday, November 26, 2021
Collection period: From Monday, November 29, 2021 to Friday, December 10
Next auction will be held on the date shown above.
We look forward to your visit.
* List of items for the next auction will be available on the website on Tuesday, November 9.
Annual auction schedule for fiscal 2021
Number of times
Period
Explanatory notes
The 195th auction

Preview period:

From Friday, May 21 to Thursday, June 3
Auction closed

Ballot open:

Friday, June 4

Collection period:

From Monday, June 7 to Friday, June 18
The 196th auction

Preview period:

From Friday, August 20 to Thursday, September 2
Auction closed

Ballot open:

Friday, September 3

Collection period:

From Monday, September 6 to Friday, September 17
The 197th auction

Preview period:

From Friday, November 12 to Thursday, November 25
In preparation

Ballot open:

Friday, November 26

Collection period:

From Monday, November 29 to Friday, December 10
The 198th auction

Preview period:

From Friday, February 18, 2022 to Thursday, March 3
Holding schedule

Ballot open:

Friday, March 4, 2022

Collection period:

From Monday, March 7, 2022 to Friday, March 18